Deep Blue Med Spa is currently offering all services. 
Will I Be Safe If I Need Care?
As a medical spa overseen by one of the largest, longest-running plastic surgery groups in the nation, our focus has always been on offering clinically proven treatments in the safest way possible. Our staff is highly trained and confident in their ability to serve patients while also keeping them comfortable and protected.
We're Here For You
While we are putting extensive safety measures in place, we understand that some patients will prefer to delay treatment or conduct a video visit. For these patients, we will continue to offer remote care options in the form of virtual appointments and consultations. To book, please click here.
Preparing For Your Visit
We have taken extra steps to provide you with the services you need in a safe and comfortable environment. In this new reality, you'll notice some changes in each of our locations:
Social distancing techniques that include fewer patients and providers in the offices
Protective barriers at reception desks and one-way traffic throughout the office
Staff wearing personal protective equipment at all times
Staff assessing patients for COVID-19 risks prior to coming into the office
Temperature checks for all patients prior to being seen
Monitoring any employee and /or patient COVID-19 cases or exposure
Sanitation and disinfection of common and high-traffic areas
We regularly monitor the latest guidance from the CDC and evolve our policies and procedures to protect our team and serve you.
Upon Your Arrival
Upon entrance to any LIPSG or Deep Blue Med Spa facility, every patient and visitor must be screened by questionnaire for COVID-19 symptoms. This includes a temperature check. While in the building, all individuals (staff and patients alike) are required to wear a face mask. Although cloth masks are sufficient, we are happy to provide a level 1 surgical mask if needed.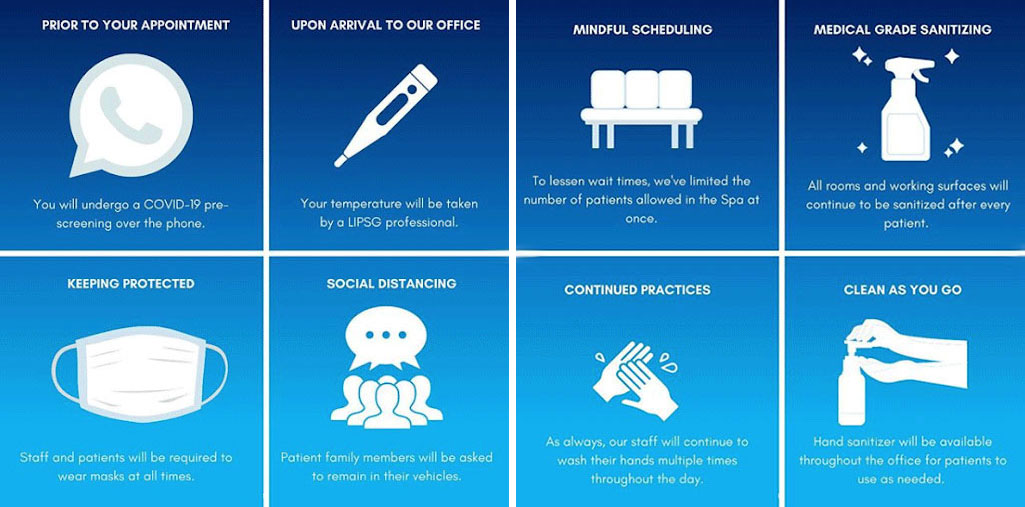 Visitor Policy
No patient guests are permitted at this time – excluding a parent or required assistance if necessary. Patients/visitors will only be permitted to go directly to the floor of their provider. They are not allowed to visit any other location within the facility.