ProBLUEMD Tips for Dry Skin
Itchy or flaky skin is often caused by environmental factors, but can also be genetic or due to allergens. Dry skin can often leave those experiencing this frustrating condition searching for products that can help restore and refresh damaged skin. Our team of experts have solutions for those suffering from dry skin and have developed a regimen that is both gentle and effective.
Wash Your Face with Lukewarm Water
Extreme temperatures are the enemy of dry skin (ever notice how skin needs more moisture in the middle of Summer and Winter?) Don't use very cold or very hot water when cleansing. Use a soap free face wash like our Gentle Brightening Cleanser, which removes makeup and pollutants while soothing and hydrating skin.
Lock in Moisture
Add a step between cleansing and moisturizing to provide all day hydration. A serum like our Signature Hydra Serum provides a boost that enables your skin to hold onto moisture all day. We like a moisturizer that multi-tasks, such as our Ceramide Moisture Lock which works to repair skin while soothing and providing powerful hydration.
Don't Get Caught High and Dry
The right skincare routine will keep your skin plump all day long – but what about the days we get stuck at work after hours, or when we hit the shower after a workout at the gym? Keep a good all around moisturizer on hand at all times. Our Nourishing Complex is a rich formula that restores the skin's moisture barrier to promote a youthful glow.
Hydrate From Inside Out
One of the best things you can do for dry skin is to stay hydrated from the inside! Drink plenty of water throughout the day. Think of water bottles as an accessory! There are so many cute reusable bottles to choose from these days that you can find one to complement any style.
The Eyes Have It
One of the first places to show signs of dehydration is the delicate skin around the eye. Our Hydra Plumping Serum smooths and plumps the skin around the eyes while delivering moisture.
Moisturize Head to Toe
When we think of skincare routines, we tend to focus only on the face and neck. However, those with dry skin types are usually afflicted with flaky skin in other areas, and it's important to include products for the whole body. Our Intensive Hand Cream, Fortified Body Lotion, and Intensive Foot Cream are all deeply nourishing to give you smooth, supple skin all over.
Don't Forget Sun Protection
You probably already know the importance of sunscreen, and you've likely experienced parched skin after a day in the sun. But did you know that the harsh chemicals in some sunscreens can actually make your skin even more dry? For those of us with dry skin, it is important to choose a moisturizing formula with high quality ingredients. Our Complete Complex Sunscreen provides SPF 50+ protection against UVA/UVB rays in a rich moisturizing base with powerful antioxidants to protect against damage and hydrate skin.
Get the Hydrating Regimen
Check out the complete Hydrating Regimen along with recommendations for treatments at Deep Blue Med Spa to pamper yourself and give your skin a boost to get the most out of your skincare regimen.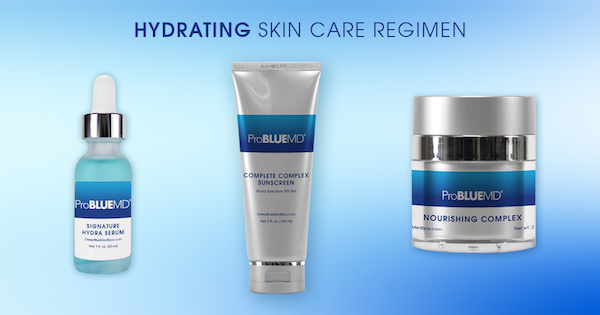 Our Suggested Routine
Deep Blue Med Spa is different because it is overseen by the experienced plastic surgeons of Long Island Plastic Surgical Group; our doctors have launched a line of pharmaceutical skincare products. The team at Deep Blue has created a comprehensive regimen for dry skin that utilizes these revolutionary products to restore your youthful glow. Check out our complete regimen or contact us to schedule an appointment with one of our experienced aestheticians.
Suggested Regimens:
AM
PM
Shop All Products Perfect for Dry Skin
Return Policy: Unopened products may be returned within one month of purchase for credit at Deep Blue Med Spa locations.