Nasolabial folds are the lines or creases that start at the corners of your nose and extend toward your mouth. As we age these lines can deepen in a way that causes a tired or prematurely aged look. At Deep Blue Med Spa, we offer minimally invasive treatments to reduce the appearance of deep nasolabial folds.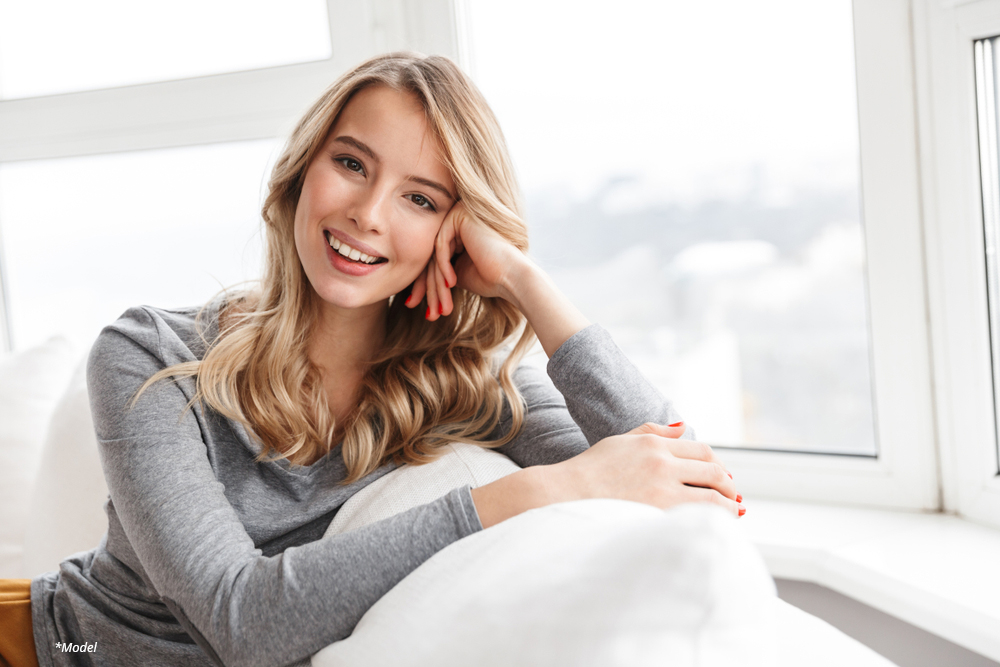 What Causes Nasolabial Folds?
As opposed to some types of facial wrinkles, nasolabial folds are a typical facial feature in people of all ages. Even children have nasolabial folds that are accentuated when they smile. However, as we age, the repetition of facial expressions can cause nasolabial folds to permanently deepen. Additionally, the reduced collagen production that most people experience with age can cause the area around the nasolabial folds to appear slack or sagging. Sun damage or a loss of fat in the face can intensify the appearance of creases. Deepened nasolabial folds are often one of the first visible signs of aging in the face.
Nasolabial Folds, Smile Lines, Marionette Lines, Parentheses Lines, or Laugh Lines?
The term "nasolabial folds" may not be one that you hear in everyday conversation. Another, more common, term for them is smile lines. Nasolabial folds are also sometimes called "parentheses lines" or laugh lines. Marionette lines are closely related to nasolabial folds and may be treated in conjunction with them, but they are slightly different. The term "marionette lines" usually refers to creases that form at the corners of the mouth and extend down the chin, often creating an unhappy look.
Non-surgical Treatment for Nasolabial Folds or Smile Lines
Topical treatments such as creams are typically not effective at reducing deep nasolabial folds. Fortunately, injectable dermal fillers can be a solution for patients who desire natural-looking results and a more youthful looking appearance. Injectable dermal fillers are a minimally invasive and effective treatment for nasolabial folds. At Deep Blue Med Spa, our rejuvenation specialists are experienced in utilizing fillers to soften nasolabial folds and deliver natural-looking results that can leave you looking refreshed.


Benefits of Injectable Filler Treatment for Nasolabial Folds
Minimally invasive and non-surgical
Restores lost facial volume
Results can last up to a year
Quick procedure with little to no downtime
What Are the Best Fillers for Nasolabial Folds or Smile Lines?
At Deep Blue Med Spa, every patient receives personalized care and a custom treatment plan. Your practitioner will discuss your aesthetic goals to choose which dermal filler is best for you. In general, dermal fillers that are made with hyaluronic acid (HA) are effective for reducing the appearance of deepened nasolabial folds. HA is an active ingredient that also naturally occurs in the body. These fillers can restore lost volume, improve skin texture, and stimulate natural collagen production. Some dermal fillers that may be used to treat nasolabial folds include:
Nasolabial Folds Treatment Recovery and Results
Treatment with injectable dermal fillers typically requires no downtime and patients often resume regular activities after their appointment. You may experience mild swelling, redness or tenderness that is temporary. Results will be noticeable immediately and will last several months up to one year, depending on the type and amount of filler used.
Frequently Asked Questions (FAQ) About Nasolabial Folds Filler
Will my smile look natural after nasolabial folds filler injections?
The highly experienced providers at Deep Blue Med Spa are committed to delivering natural-looking results. Our goal is always to help you look like the best version of yourself.
Do injectable fillers for nasolabial folds hurt?
Patients typically report injectable fillers to be painless or feel like a small pinch. A topical anesthetic can be used to numb the area prior to injection.
How much does nasolabial folds treatment cost?
Pricing for injectable dermal fillers can vary based on the type of filler, the amount used, and your individual treatment plan. Check our special offers and events page to stay up-to-date on promotions for injectables.
Am I a good candidate for nasolabial folds treatment?
If you are bothered by deepened nasolabial folds, treatment with injectable dermal fillers may be a solution. The best way to learn if nasolabial folds treatment is right for you is to schedule a consultation appointment at one of our offices in Garden City, Babylon, East Hills, or Manhattan. Contact us with any questions or to schedule your consultation.