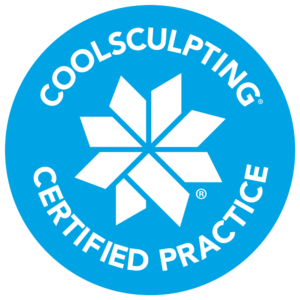 CoolSculpting®, a revolutionary FDA-cleared, non-invasive treatment that reduces love handles and other targeted areas such as thighs and flanks by freezing & eradicating fat cells. The science behind CoolSculpting® is called Cryolipolysis™, which is a precisely controlled cooling method that targets, cools, and reduces fat cells without damaging your skin. The treatment works by using a mild vacuum pressure on targeted tissue exposing cells to cold temperatures and 'freezing' them. CoolSculpting® treatment is virtually pain-free and only takes about 1-2 hours, after the treatment you can immediately resume daily activities.
Several days after the procedure, the cooled fat cells begin a process called "apoptosis" and begin to shrink. These damaged fat cells are naturally digested and metabolized after several months resulting in a slimmer shape of the body. *You may see results as early as three weeks following treatment and your results will continue over the next two to four months. *On average, patients will experience a 20-25% reduction of fat in the treated area after one visit and may lose more with additional visits.
DualSculpting
If you desire contouring in multiple areas, such as both hips or flanks, you can opt for DualSculpting. This involves two separate handheld devices to treat two separate target areas of stubborn fat at once.
Simultaneously treats two areas for a faster procedure time.
Can return to normal activities immediately.
Popular areas include abdomen, back, flanks, and thighs.
CoolSculpting® Double Chin Treatment
Coolsculpting® can now treat your double chin! The new applicator can reduce fat under the chin and contour the neck. Click Here to view our CoolMini gallery.
#1 non-invasive fat reduction treatment is FDA cleared to treat the neck
*Results are typically seen in just 1-2 treatments
Non-invasive, no needles, surgery or any downtime
CoolSculpting® CoolAdvantage™ Applicator
The CoolAdvantage™ Applicator is specially designed to treat the abdomen, flanks, and inner thighs. Each cycle takes about 35 minutes to complete, which is almost half the amount of time in a normal CoolSculpting® procedure.
Shorter treatment time
Increased comfort during the treatment
Can treat more tissue at once due to the attachment sizes
Schedule a complimentary consultation today!
Is Coolsculpting® right for me?
Don't want surgery or down time.
Have stubborn fat bulges.
Want a sculpted body.
How does it work?
Non-surgical treatment.
Targets and kills unwanted fat cells using cooling technology without damaging the skin.
Fat cells are released through your lymphatic system.
What do I need to know?
1 or more treatments may be necessary to achieve desired result.
Complimentary consults are available at Deep Blue Med Spa.
Little to no down time.
My stomach has always been my problem area, even at my ideal weight. I am amazed at what just one session of coolsculpting® did for my belly — and for my confidence. It was quick and painless, and the results speak for themselves.Actual Deep Blue Med Spa Patient*
Contact us today to schedule your complimentary consultation.
Interested in Coolsculpting®?
Please complete the form below, if you have additional questions about Coolsculpting® or would like to schedule your complimentary consultation:

*Results May Vary