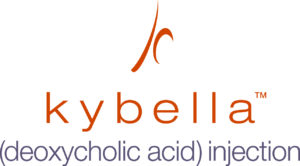 KYBELLA® is an innovative injectable designed to correct the common concern of a "double chin" due to excess fatty tissue. Traditionally, this could only be addressed with liposuction or neck lift surgery, but with KYBELLA®, patients can opt for a less invasive alternative to improve the contour of their neck area.
The injectable is the first and only treatment of its kind approved by the FDA for the reduction of submental fullness (excess fat underneath the chin). It is composed of deoxycholic acid, which is a naturally occurring substance in the body that breaks down dietary fat. When carefully injected into the target area under the chin, KYBELLA® can effectively destroy the excess fat cells which are then expunged via metabolic processes.
The formula is administered through a very fine needle into the problem area. Patients can opt to have a numbing agent administered before the session begins for enhanced comfort. The entire KYBELLA® treatment takes about 15 to 20 minutes to complete, and two to four sessions are typically recommended, depending on the unique needs of the patient.
Little to no downtime is needed. Patients may notice mild swelling, bruising, and numbness at first, but this should fade within the first few days. *As KYBELLA® takes effect, the results should continue to improve, creating a slimmer neck contour.
Is KYBELLA® Right For Me?
Don't want surgery or downtime?
Looking for non-surgical treatment for a double chin?
How Does KYBELLA® Work?
Non-surgical treatment.
Active ingredient breaks down excess fat under chin.
Gradually contours the neck appearance as injectable takes effect.
What Do I Need To Know?
BEFORE:
Complimentary consultations are available at all Deep Blue Med Spa locations.
Each treatment takes about 15 to 20 minutes.
*Results will continue to improve as fat breaks down.
Little to no downtime needed.
AFTER:
It is normal to experience mild swelling, bruising, and numbness for the first few days.
*Results May Vary