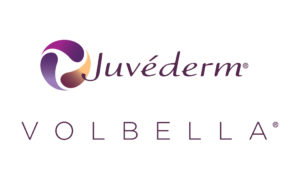 JUVÉDERM VOLBELLA® XC is a specially formulated dermal filler that is FDA-approved for augmenting the lips and diminishing vertical lines around the mouth. The injectable is part of the JUVÉDERM™ family of fillers and is composed of hyaluronic acid (HA), a naturally occurring substance found in the skin that helps retain moisture. JUVÉDERM VOLBELLA® XC is unique in that it is created using VYCROSS® technology, which helps restore fullness and definition to the lips.
Best results typically occur in those who exhibit the following:
Fine lines around the mouth, also known as "smoker's lines"
Lost volume in the lips
Naturally thin shape to the lips
Each treatment session takes between 15 and 30 minutes, depending on the extent of the patient's needs and aesthetic goals. The JUVÉDERM VOLBELLA® XC formula contains the numbing agent lidocaine, which helps maximize comfort during this "lunch hour" treatment. *Results can typically begin to be seen immediately, though there may be mild swelling for the first couple days. Should this or any other mild to moderate side effects occur, patients often find they quickly resolve within the first few weeks.
Results following a JUVÉDERM VOLBELLA® XC session have shown to last for about one year, if not longer. Our patients have found the innovative injectable to offer beautiful yet subtle enhancement for their lips, improving the contour and restoring lost volume. In addition, JUVÉDERM VOLBELLA® XC can provide youthful definition to the mouth area, as it minimizes the appearance of fine lines that extend vertically around the lips.
To maintain the positive results from JUVÉDERM VOLBELLA® XC, follow-up sessions can be scheduled for longer-lasting rejuvenation.
Is JUVÉDERM VOLBELLA® XC Right For Me?
Don't want surgery or downtime?
Looking for a non-surgical alternative to rejuvenate the mouth area?
Seeking to add shape and plump lip contour?
Do you have vertical lines around your mouth due to age?
How does JUVÉDERM VOLBELLA® XC work?
Non-surgical treatment.
Subtly replenishes lost volume surrounding the mouth.
Adds volume to lips for a more full shape.
Smooths wrinkles around the mouth, also known as "smoker's lines."
What Do I Need To Know?
BEFORE:
Complimentary consultations are available at all Deep Blue Med Spa locations.
Procedure takes approximately 30 to 60 minutes.
*Results can begin to be noticed immediately.
Little to no downtime required.
AFTER:
May have mild swelling, redness, or bruising at the injection site.
Can schedule follow-up treatments to maintain results.
Results can last through one year.
*Results May Vary