Stacyann Samaroo, Medical Aesthetician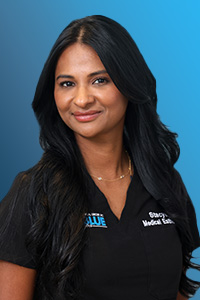 Stacyann Samaroo is a licensed medical aesthetician who received her training from New York Institute of Beauty. After spending the first five years of her career in a high-end day spa, where she became the lead aesthetician, Stacy decided to turn her practice toward advanced medical aesthetics. She gained both knowledge and experience in this field while working for a dermatologist on the north shore of Long Island and a facial plastic surgery group in Woodbury and New York City. During her transition from the day spa to medical aesthetics, Stacy also worked with a variety of medical- grade skincare lines, expanding her knowledge on customized skincare, and became a certified phlebotomist. Today, this distinction allows her to incorporate advanced procedures into the services she offers.
Stacy comes to Deep Blue Med Spa with a wide variety of specialties including microneedling, chemical peels, laser treatments, microdermabrasion, advanced facials, dermaplaning, and more. She strongly believes in the treatment and product regimens she preaches to her patients, as it's also what she practices on herself. Stacy truly loves what she does and believes it reflects in each of her patients as they walk out the door.