The Clear + Brilliant® Laser is designed to improve the overall appearance of your skin by refining tone and texture for a renewed, youthful complexion. This minimally invasive, non-surgical procedure can rejuvenate damaged skin while also fighting early signs of age, allowing you to put your best face forward.
The Clear + Brilliant® Laser is a fractional, non-ablative device that gently targets water in the skin – as opposed to pigment – which makes this procedure suitable for a wide range of skin types. Our Clear + Brilliant® Laser treatments can be customized to address each patient's individual cosmetic concerns. The quality of your skin can be influenced by a number of factors, including hormones, sun damage, smoking, genetics, the natural aging process, and environmental factors. This innovative skin rejuvenation option allows our skin care professionals to treat nearly any area of the body, including the face, neck, shoulders, décolleté and hands – the areas most commonly exposed to sun and other environmental factors. As a unique benefit, Clear + Brilliant® Laser treatments can be performed during the summer, as the system does not cause light sensitivity like other laser procedures. The advanced solution has shown to improve the overall look of the skin by stimulating collagen production and promoting cell regeneration for a smoother, clearer, more evenly toned appearance.
In most cases, one Clear + Brilliant® Laser session takes approximately 30 minutes to complete, depending upon the size and number of the target areas. It is normal to experience side effects such as mild redness, tenderness, or swelling, but these typically resolve quickly, allowing patients to return to their normal daily routines immediately after the procedure. Most patients choose to undergo a series of three to six treatments to optimize their results. Other patients may choose to combine our Clear + Brilliant® Laser treatment with another of our cosmetic skincare options.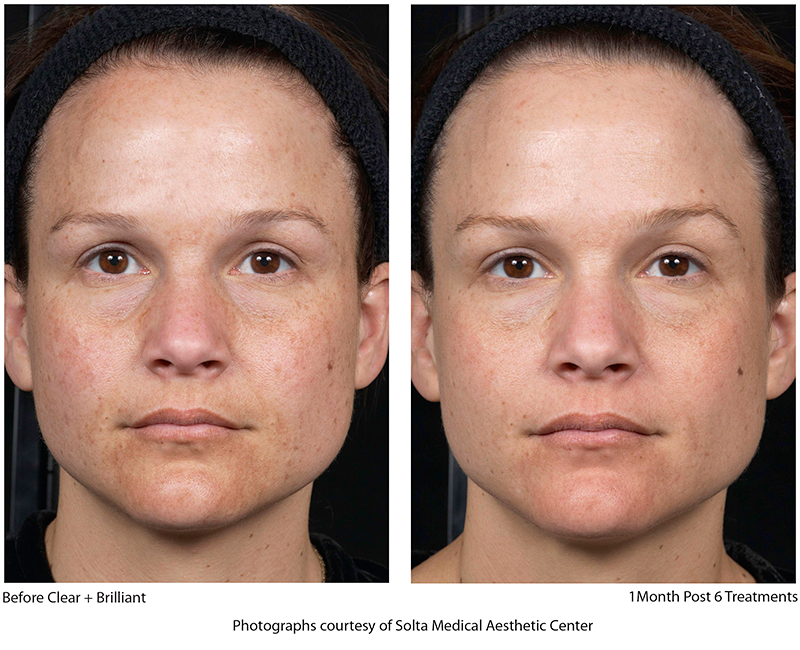 For more information about Clear + Brilliant® Laser skin rejuvenation, please contact our office today.
Is Clear + Brilliant® Laser Skin Rejuvenation right for me?
Have uneven skin tone or texture?
Have dull or damaged skin?
Have large pores?
Have hyperpigmentation or unwanted freckles?
Have fine lines and wrinkles?
How Does it Work?
Laser energy targets water within the skin, which can stimulate collagen production and cell regeneration.
What Do I Need To Know?
BEFORE:
Complimentary consultations are available at all Deep Blue Med Spa locations.
Treatment typically takes 30 minutes, depending on the target site.
Effective on virtually all skin types.
Minimal or no downtime is required.
AFTER:
May have mild redness, tenderness and/or swelling.
Multiple treatment sessions can optimize results.