Deep Blue Med Spa In The News
In recent articles featuring our lead medical aesthetician, Bobbi Del Balzo, she provides useful and informative guidelines to treat or maintain your skin. Bobbi educates through her insights and professional knowledge and has offered many helpful tips to help achieve a healthier and revitalized appearance. As a skincare expert, her focus is treating common issues such as sun damage, age spots, rosacea, acne, spider veins, unwanted hair, and other skin conditions at Deep Blue Med Spa.
"5 Facts When Choosing Between Over-the-Counter and Medical Grade Skincare"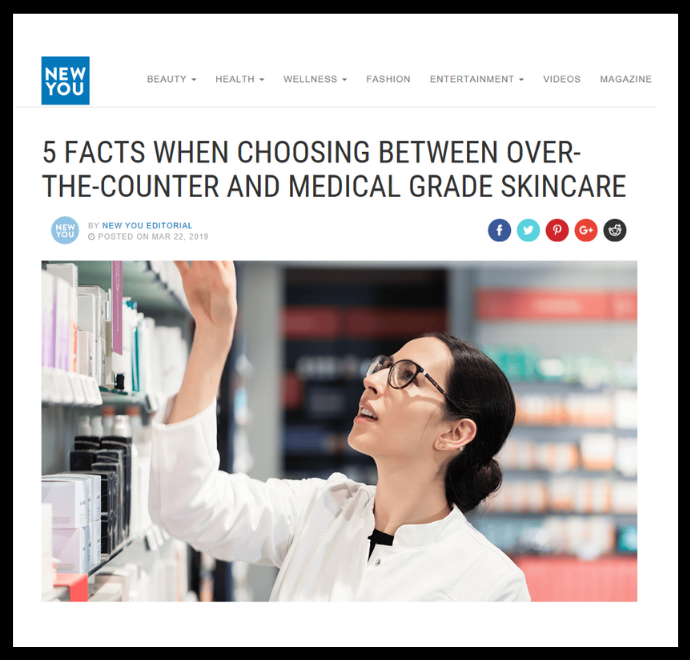 There are many ways we can protect and take good care of our skin, one being our morning or nightly skincare routine. As mentioned in a NewYou Editorial article, Bobbi discusses the difference between medical grade skincare and over the counter (OTC) products and lists her favorite brands from each. The difference is not just about the price, but rather how medical grade skincare can transform your skin by giving it the formulas needed to correct the concern you're dealing with. Bobbi says, "They're also designed differently from OTC products at a molecular level, which helps them penetrate the skin better and deliver results." Whether you have stubborn acne, large or clogged pores, oily, dry, or sun damaged skin, these products can be the solution you've wanted all along. Understanding your skin type is the first step to taking care of your skin because it will determine which products you need in your routine.
"How to Use a Jade Face Roller for Younger-Looking Skin"
Do you know about the latest trend in skincare? According to a Prevention article, the jade roller is used to help anti-aging, reduce puffiness, release tension in muscles, and give your skin an overall youthful appearance. There is an instructed technique on how to use this tool and Bobbi suggests, "A desired eye and face serum must be applied to clean skin prior to rolling, ideally one containing hyaluronic acid, which holds up to 1,000 times its weight in water."
"Transitioning Your Skincare for the Winter with Bobbi Del Balzo"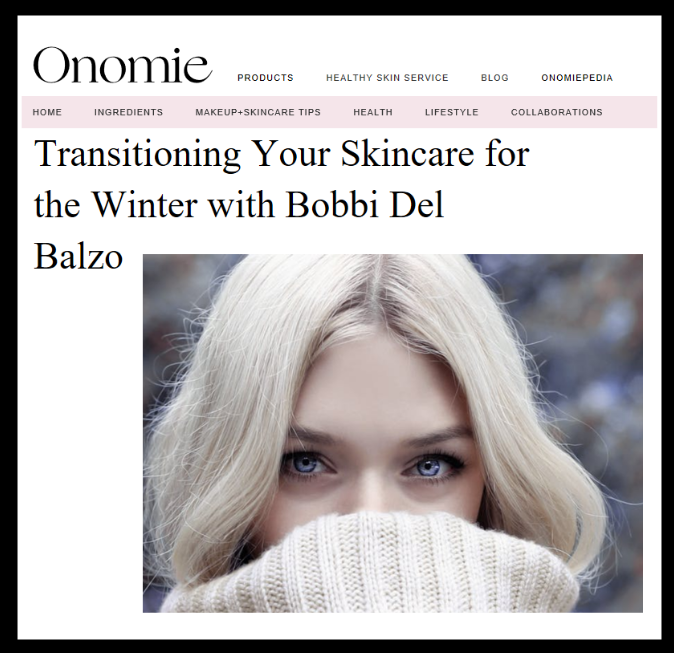 In Onomie, Bobbi gives her best tips to achieve healthy skin in the cold and dry winter season. She lists useful recommendations such as switching to rich facial moisturizers with ceramides. "Moisturizers with ceramides not only do a great job of hydrating and calming the skin, but they also create a protective barrier that locks in moisture" she adds. Due to the dry air in this season, Bobbi explains the importance of exfoliation and says, "The key thing that a lot of people don't know is that increasing your retinols and exfoliators will actually prevent you from drying out, because you are promoting healthier, softer skin."
"Wake Up With Younger-Looking Skin"
This article on Reader's Digest Online describes all the ways skincare professionals wake up with flawless skin. One of the most important suggestions to achieving clear and healthy skin is drinking water. Staying hydrated can make all the difference, and Bobbi suggests keeping water on your night stand to ensure you always have access to it if you wake up thirsty.
"Over 40? Here Are 40 Unhealthy Habits You Need to Purge from Your Life Immediately" 
Drinking alcohol is considered an unhealthy habit that can ruin your skin over time. Featured in Best Life Online, Bobbi says, "Drinking alcohol causes the pores to dilate, contributing to breakouts and excess oil," and that it causes the skin tissue to become dehydrated and dry. Therefore, water is your best friend in helping you stay hydrated and healthy!
"15 Gross Things That Are Actually Good For Your Skin" 
Who knew that rubbing egg whites and oatmeal on your face can aid your breakouts or eczema? Bobbi is featured in this Bustle article and says another thing that can help your skin is sweating. Yes, getting sweaty is beneficial! It releases the toxins, dirt and bacteria which ultimately will unclog your pores and lead to fewer breakouts. But remember, it is always important to wash your face after a gym workout.
Deep Blue Med Spa believes in providing treatments, medical grade products, and also education to help patients achieve their skincare goals. Our licensed medical aestheticians and physician assistants offer services that are tailored to your specific needs, so you leave feeling and looking at your best. To learn more, contact us today to schedule a consultation.