Acne can be a chronic long term skin condition or and occasional breakout, caused by either genetics, hormones or environmental factors, and it can persist beyond the typical teen years. The ProBLUEMD acne treatment system was developed to be a comprehensive solution for those suffering from acne at any stage of life.
Start With the Right Cleanser
Clean skin is the first step to clear skin. However, many acne face washes are formulated with harsh chemicals that irritate skin, which can lead to more breakouts! Our antibacterial acne wash is soap free to treat skin without stripping it of essential moisture.
Smarter Exfoliation
Acne prone skin can sometimes feel bumpy and uneven, and you may be tempted to scrub away at your skin. The problem here is that rough grainy scrubs are often too coarse for skin that is broken out or healing, and can lead to inflammation. The answer is a chemical exfoliant that encourages the skin's natural process to shed dead skin cells while removing acne producing build up. Our clarifying pads deliver acne fighting salicylic acid, along with powerful but pure glycolic acid to leave skin clean and polished.
Don't Pick
We know you've heard it before, but don't pick at your skin! Squeezing pimples can lead to more breakouts and long lasting scars. If you need extraction, leave it to the experts. Deep Blue Med Spa has experienced aestheticians who can customize a facial treatment to leave you relaxed and detoxified. We also have several treatments available that will reduce the appearance of acne scars. Contact us to schedule a treatment or a consultation with an aesthetician.
Moisturize
A common misconception is that acne prone skin doesn't need moisture. When skin is too dry, it can actually overcompensate by producing too much sebum, or oil, and that leads to more breakouts. Our Ultra Lite Facial Cream is lightweight to provide just the right amount of moisture to leave skin feeling soft and fresh, while also nourishing skin with vitamins and green tea extract.
Sun Protection
Some sunscreens contain pore-clogging ingredients, so it is important for people with acne prone skin to choose a sunscreen that is formulated with high quality ingredients. As for sun exposure, you may be hitting the beach bare faced because you think a tan will hide acne. But, in the long run UVA and UVB rays actually make acne scarring much worse! Luckily, our Pure Protection Sunscreen provides the perfect defense for acne prone skin. It is made with proven good-for-your-skin ingredients, provides broad spectrum UVA/UVB protection, and absorbs quickly and transparently.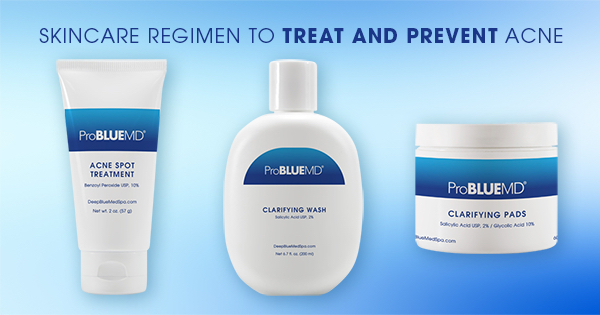 Our Suggested Routine
Deep Blue Med Spa is overseen by the expert plastic surgeons of Long Island Plastic Surgical Group, whose experience informed the development of our line of pharmaceutical skincare products. The team at Deep Blue has created a simple regimen for acne prone skin that combines powerful acne fighters with pure nourishment to deliver healthier skin. Check out our complete regimen or contact us to schedule an appointment with one of our experienced aestheticians.
Suggested Regimens
AM
PM