ProBLUEMD Tips for Aging Skin
Be bold and beautiful no matter what stage of life you're in! Our revolutionary skin care treatment for aging skin allows for optimal skin health at any age. Aging gracefully is a top priority for our team of skincare professionals, and our products were formulated specifically to treat and restore aging skin.
Get the Best Basics
You know that you need a cleanser and a moisturizer, but how do you choose from the plethora of products available? At Deep Blue Med Spa, our team of medical aestheticians, Physician's Assistants, and plastic surgeons have launched our exclusive skincare line, ProBLUEMD, to ensure that each product contains pharmaceutical grade ingredients. Our Gentle Brightening Cleanser is soap free, but powerful enough to remove makeup and environmental pollutants. Our Nourishing Complex delivers moisture while restoring the skin barrier to leave skin healthy and fresh.
Be Smart About Sun Protection
Sunscreen is the first defense against the signs of aging. Make sure that yours has the highest level of broad spectrum UVA and UVB protection available, like our Complete Complex SPF 50+. For protection plus a light coverage and anti-aging benefits, choose our Dual Action Primer.
It's Called Beauty Rest for a Reason
Make time in your busy schedule for adequate sleep. Your skin repairs itself while you're catching some Z's so getting your full 8 hours can help you look well rested and fresh faced.
Rejuvenate With Retinol
Retinol is the gold standard in anti-aging products. We offer several strengths so you can customize your regimen. Our Corrective Treatment 3x, Corrective Treatment 5x and Corrective Treatment 10x all contain pharmaceutical grade retinol plus green tea and caffeine USP in a hydrating base to reduce the appearance of fine lines and wrinkles.
Treat Yourself To Treatments, and Adjust Your Routine Accordingly
There are a number of treatments available at Deep Blue Med Spa, from facials to Fraxel®, that can boost your routine to optimize the anti-aging benefits. If you undergo a laser procedure, you may need to use a more gentle skincare routine for a period of time afterwards. Our team has developed our Anti-Aging 1 regimen for skin that is naturally sensitive or for patients to use after laser treatments, while our Anti-Aging 2 regimen is for normal skin. Book a visit with one of our medical aestheticians or Physician's Assistants to discuss which regimen is right for you, or to discuss treatment options customized to your needs and skincare goals.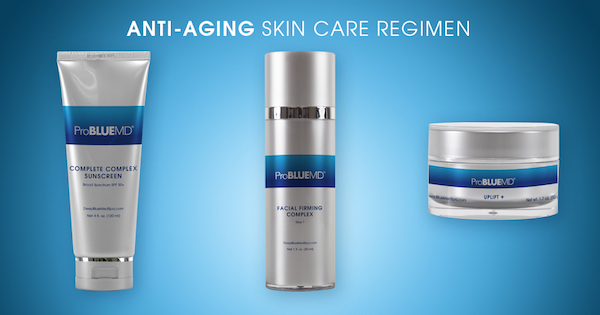 Our Suggested Routine
View our complete Anti-Aging Skincare Regimens or contact us to schedule an appointment with one of our experienced medical aestheticians.
Suggested Regimens:
Anti-Aging Regimen 1
AM
PM
Anti-Aging Regimen  2:
AM
PM
Shop All Products for Anti-Aging
Return Policy: Unopened products may be returned within one month of purchase for credit at Deep Blue Med Spa locations.