Pregnancy Skincare Safety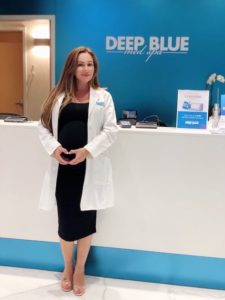 While the months leading up to a new baby (or two!) is an exciting, beautiful time in a woman's life, pregnancy can affect the female body in many ways. Whether your pregnancy is bringing you bloating and swelling, fatigue, or an achy back, your body deserves some pampering! However, you may not be able to continue your usual routine since not all skincare and spa treatments are considered healthy for moms-to-be. Below are some of my top pregnancy-safe recommendations of products and services offered at Deep Blue Med Spa.
Enhance your pregnancy glow with these pregnancy-safe facial treatments:
* Signature Facial – This introductory facial is a basic cleaning designed to enhance the look, texture, and hydration of your skin. The treatment also includes relaxing aroma therapy and European-style massage to stimulate healthy skin circulation.
* Brightening Vitamin C Facial– Due to its gentle ingredients, this facial is great because it incorporates a peel that softens hyperpigmentation and delivers a brighter complexion- without actually peeling.
* Fire and Ice Facial– This two-part treatment incorporates a resurfacing peel and cooling mask, designed to stimulate cellular renewal for healthier, younger-looking skin. Due to the ingredients of the glycolic acid peel, which is derived from natural sugar cane and plant botanicals, this treatment is pregnancy safe.
* Optimum Hydration Facial- Transform your skin with this facial that combines deep cleansing and powerful hydration to maintain the ideal level of moisture in the skin. This treatment is especially great for pregnant women who suffer from overly dry and sensitive skin.
* HydraFacial © – Although this is a refreshing, non-irritating and pregnancy-safe treatment, be sure to opt out of any boosters that contain harsh acids that exceed a concentration of 7%. HydraFacial will deliver immediate results and address a wide variety of skin concerns.
* Microdermabrasion– By using a gentle stream of exfoliating crystals, Microdermabrasion removes the outer layer of dead skin cells and impurities to revealing the healthier skin underneath. This is great when combined with our pregnancy-safe Signature Facial!
* Dermaplaning– This non-invasive treatment easily removes the extra "peach fuzz" many women find on their face, that can grow especially thick and fast during pregnancy.
* Lactic Peel– If you would like to continue a routine of light chemical peels, this is the only one recommended because of its super light and artificial ingredients.
The following aesthetic treatments should NOT be done during pregnancy:
* Clear + Brilliant© Laser Resurfacing- Laser treatments of any kind should be avoided during pregnancy due to the lack of information on how these treatments effect the fetus.
* Medium-Deep Chemical Peels– The percentage of various acids in these peels are very high and surpass the safe limit during pregnancy.
* Microneedling- The device used in this treatment helps rejuvenate, restore, lift, and tighten the skin by delivering micro-needles into the epidermis and dermis layers of the skin. Even minimally-invasive treatments should be avoided during this time.
* Microblading- Designed to polish the look of eyebrows, this semi-permanent eyebrow tattooing deposits pigmentation into the skin that should be avoided during pregnancy.
* VelaShape™ Contouring – The radiofrequency and infared light waves in this treatment are not recommended for mom and baby during pregnancy.
* High Frequency- Antibacterial Device- Due to the small electrical current this device administers, it is not advised to be used during pregnancy.
Most of the skincare products offered at Deep Blue Med Spa are pregnancy-safe, but the following should be avoided while expecting and lactating:
* ANY products that contain retinols- Studies have shown that large doses of Vitamin A, which retinols and retinoids are derived from, can be dangerous to your unborn baby and are linked to neuropsychiatric disorders. These are studies shown from oral retinoids taken by mouth, but as a precaution we advise avoiding all retinol products when pregnant and breast feeding.
* ANY product containing over 2% of salicylic acid- This acid is derived from willow bark plant extracts and products during pregnancy are safe, but recommended not to exceed 2% concentration. Cleansers and toners commonly include this ingredient.
* ANY product containing over 2% of glycolic Acid- Similar to salicylic acid, this ingredient is derived from sugar cane plant extracts and is safe during pregnancy, but only if it does not exceed a 2% concentration.
Some specific products to stay away from include:
* ProBLUE MD Retinol Corrective Treatment
* ProBLUE MD Clarifying Pads
* ZO© Skin Health Hydroquione
* ZO© Skin Health Oil Control Pads
* ZO© Skin Health Dual Action Scrub
* ZO© Skin Health Exfoliating Cleanser
The below products are not only pregnancy safe, but actually recommended to be used during pregnancy due to the active ingredients that can help to obtain healthy skin during this time:
*ProBLUE MD Vitamin C Serum
*All ProBLUE MD products containing Hyaluronic acids
*ProBLUE MD Brightening
*All Brands of sunscreens containing SPF
*ZO© Growth Factor Serum
*ZO© Brightalive
*ZO© Calming Toner
*All iS Clinical Line Products
---
As a licensed medical aesthetician and mother, I would like to stress the importance of consulting a medical professional before making a purchase or appointment. If any expecting or new mothers have additional questions, I am happy to share my expertise and experience with the aesthetic do's and don'ts during this time. Email bdelbalzo@lipsg.com or check out @bobbi_deepblue on Instagram to learn more.