Restylane® Refyne & Defyne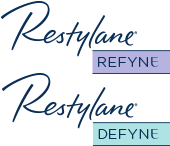 For those with moderate to severe facial lines and wrinkles, Restylane® has specially formulated two hyaluronic acid-based dermal fillers to provide exceptionally natural-looking rejuvenation. Restylane® Refyne and Restylane® Defyne were created using XpresHAn Technology™ to restore lost facial volume while maintaining flexibility to support natural movement.
Restylane® Refyne is often ideal for those who are unhappy with pronounced facial folds but want to retain optimal flexibility for a subtle improvement. Restylane® Defyne is more appropriate for individuals who have deep facial lines and wrinkles, due to its ability to provide more advanced support. At Deep Blue Med Spa, our patients can effectively smooth common concerns like nasolabial folds and marionette lines by opting for one of Restylane®'s innovative new injectables.
Both Restylane® Refyne and Restylane® Defyne are intended for patients who are 21 years or older. A typical injectable session lasts approximately 30 minutes to complete, and improvement can often begin to take place immediately after treatment. Most patients do not require any downtime, allowing them to return to their normal routine after leaving our office. It is normal, however, to experience mild bruising, redness, or swelling at the injection site, but these side effects should quickly dissipate.
*Results from Restylane® Refyne and Restylane® Defyne have been shown to last up to 12 months, if not longer. Patients can choose to undergo touch-up treatments at our med spa to prolong their youthful appearance.
Is Restylane® Refyne or Defyne right for me?
Are you 21 years or older?
Don't want surgery or downtime?
Searching for a way to reduce facial wrinkles?
Do you have nasolabial folds or marionette lines?
How do Restylane® Refyne and Defyne work?
Non-surgical treatment.
Temporarily restores lost volume to the lower face for smoother skin.
What do I need to know?
BEFORE:
Complimentary consultations are available at all Deep Blue Med Spa locations.
The treatment usually takes about 30 minutes to complete.
*Results can often begin to be seen immediately and last up to a year or more.
No downtime required.
AFTER:
Can resume daily activities immediately after the injectable session.
Mild side effects like redness, bruising, or swelling may occur temporarily after treatment.
*Results May Vary