It's all about that BASE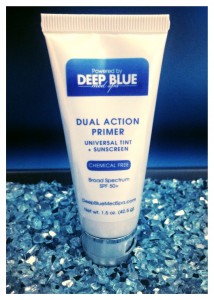 If you are looking for one product that acts as a sunscreen, gentle hydrator is an all-day oil controller and has age defying antioxidant benefits Dual Action Primer SPF 50+ has got you covered.
Dual Action Primer SPF 50+ features Universal Pigment Technology, one shade matches all skin tones, provides a healthy tint of color while covering imperfections and minimizing pores.
You can wear it on its own or as a makeup primer.
Think of this product like Spanx for your face. Its job is to smooth everything out, conceal and hold things in place. Your makeup will stay where you put it and instantly look better longer. It minimizes the appearance of pores, leaves your skin smooth, and creates the optimum BASE for makeup. Best of all its chemical free!
Sylvia says: "I recommend Dual Action Primer for my patients even with oily skin because of it's great matte finish. They love it because of the light coverage this product offers while leaving their skin hydrated and protected."