Beauty Is More Than Skin Deep
As a medical spa overseen by the largest, longest-running plastic surgery practice in the nation, we take pride in providing patients with only the latest, most cutting-edge aesthetic treatment options. From facials and lasers to injectables and body contouring, every service we offer is designed to help patients look and feel their best. However, at Deep Blue we're also of the belief that beauty is more than skin deep, and what you put into your body is often just as important as what you put on it.
To empower patients to take charge of their goals, we are proud to offer a
a range of vitamins and nutritional supplements designed to support recovery, enhance skin and hair, and fuel overall health.
If you're intrigued by the idea of adding nutritional supplements into your daily routine or are simply eager to learn more about which products our practice stands behind, read on below.
Our Favorite Vitamins and Supplements
Recovery
For over 20 years, Vitamedica nutritional supplements have been recommended by thousands of doctors and used to serve over one-million patients. Why? Because their premium-quality products are guided by science and proven through clinical experience. Formulated by an anesthesiologist, Vitamedica helps to support patients with a variety of concerns, one of which being recovery.
Arnica Montana is a homeopathic remedy used for bruising and swelling. This is an ideal recovery aid for those who may bruise or swell after a minimally invasive treatment like lip injections. Similarly, Bromelain with Quercetin is a natural combination of anti-inflammatory botanicals, designed to aid those who may have suffered an injury or undergone a surgical procedure.

Healthy Skin
In addition to topical products and in-office skincare treatments, our Spa offers both the Vitamedica Anti-Aging and Clear Skin formulas. These daily supplement packets utilize scientifically researched vitamins and minerals purposefully selected and combined to support healthy, younger looking skin from the inside out. In addition, the Daily Balance Probiotic-8 is a broad-spectrum formula developed to support healthy skin, digestive regularity, and overall immune system function.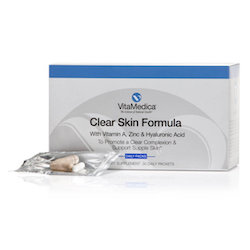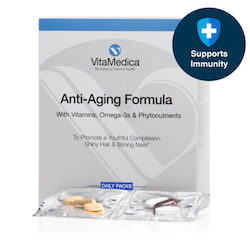 Hair Health
It's no secret that a clear complexion and healthy weight can help to improve an individual's overall sense of confidence. However, these aren't the only areas of insecurity we hear about from patients. So what else are they concerned about? Their hair!
Whether it's thinning or a lack of growth, both men and women struggle with a desire to achieve healthier looking hair. In addition to offering Hydrafacial Keravive, Deep Blue Med Spa is proud to carry Nutrafol, a line of 100% drug-free, natural ingredients clinically shown to improve growth, thickness, and shedding. With product options formulated to help men, women, and those struggling with peri- and postmenopause hair concerns, the Nutrafol vitamin system supports every patient on their hair care journey.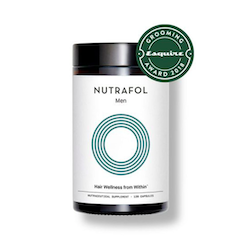 Overall Wellness
Collagen is an important protein within the body that is responsible for healthy joints and skin elasticity. Unfortunately, as we age (as early as our 20's) it becomes more challenging for the body to create collagen, and many of these existing proteins begin to break down. A loss of collagen can lead to brittle nails, thinning hair, weakened bones, and fine lines and wrinkles. Although aging is a part of the body's natural process, there are ways to help mediate these concerns. For example, investing in a fully hydrolyzed collagen supplement. A clinically studied collagen supplement can help to replenish your natural stores while also stimulating the body to make more of its own natural collagen.
At Deep Blue, we are excited to now offer our patients Vitamedica's all new line of Collagen Peptides.This superstar product is formulated to promote healthy skin, hair, nails, bones, and joints, and to directly address both internal and visual signs of aging. Every scoop of this easy to mix powder is fully hydrolyzed for maximum absorption, delivers 16 grams per serving, and is grass-fed, pasture-raised, non-GMO, and gluten-free.
To learn more about any of the vitamins and nutritional supplements offered at Deep Blue, give us a call today or inquire with your provider at your next appointment.