Your skin is uniquely yours – use our comprehensive skin type guide to find tips and products to best suit your skin and skincare needs.
Sensitive Skin
Are you constantly in search of products that won't leave your skin feeling uncomfortable and irritated? Then sensitive skin might be to blame. Whether these issues are due to genetics, diet, environmental factors or allergic reactions, trying to soothe skin can be an ongoing battle. Signs you might have sensitive skin include:
Tight, itchy skin
Burning or stinging
Flushed, sometimes with small red pimples
Rough, dry patches
Puffiness or wrinkles in the eye-area
If dry, red, itchy or puffy sound like accurate descriptions of your skin, you need a regimen that is gentle enough to reduce irritation and strong enough to tone and hydrate. At Deep Blue Med Spa, our expert team has developed a skincare routine to clean, nourish and improve a variety of concerns. Avoid common irritants and regain your skin's natural, healthy glow!
Skin Brightening
Have you struggled with dark spots or skin discoloration due to acne, sun damage or other scarring? If so, our skin brightening regimen from ProBLUEMD can help restore a consistent look to discolored or damaged skin. ProBLUEMD's brightening skin system was designed to help people with issues such as:
Hyperpigmentation or Dark Spots
Sun Damage
Uneven Skin Tone
Acne Scars
If you are currently affected by any of these common issues that can cause skin discoloration, then finding a gentle and effective solution is important. Our team of skincare specialists, doctors and medical aestheticians have built a skincare regimen for those who wish to achieve radiant skin. Our line of innovative products, along with these skincare tips, can help you achieve optimal skin tone and clarity.
Dry Skin
If you are constantly fighting against dry patches, flakes, and tight feeling or itchy skin, then you need a skincare routine that delivers effective hydration. Hydration indicators include:
Skin that looks tired or dull
Tight or dry feeling skin year round
Concerns about premature aging or loss of elasticity
Desire for skin that is smoother, with a more youthful glow
If the above sounds familiar, then our Hydrating Regimen is right for you. You've probably tried countless moisturizers and serums, but what you really need is a complete system with products that work in conjunction to deliver deep and lasting moisture. Our Hydrating Regimen includes everything you need for your morning and evening routine. The experts at Deep Blue Med Spa have some tips and tricks, along with breakthrough product recommendations from the Hydrating Regimen, to take you from parched to pretty.
Acne Prone
Finding the correct skincare regimen can be especially challenging for those of us with acne prone skin. Whether you've been battling breakouts since junior high, or facing temporary acne as an adult due to stress or hormonal shifts, you're probably fed up with products that don't work. At Deep Blue Med Spa, our experienced team has helped many people treat breakouts and learn to love their skin again. Indications of acne prone skin include:
Clogged pores
Visible pimples and blackheads
Scarring from past breakouts
Desire for smoother, clearer skin
If you have acne prone skin, you need skincare products that deliver powerful ingredients while working to heal and nourish. The team at Deep Blue Med Spa has developed a complete regimen, with morning and evening recommendations, that will help you achieve smooth, clear skin. Read on for details on these revolutionary products, along with tips from our experts to optimize your routine.
Aging Skin
Getting older is inevitable, but looking older isn't! The right skincare routine can fight the signs of aging and help you keep a youthful glow. Visible signs of aging include:
A dull, dry complexion
Wrinkles and fine lines
Discoloration or sun damage
Loss of elasticity
If you're concerned about any of these symptoms, your first defense is an effective skincare routine. If you're noticing signs of aging, or if you're interested in preventative skincare, you need products that hydrate and refine without unnecessary additives that can strip or irritate delicate skin. The products in our ProBLUEMD anti-aging skincare regimens combine clinical strength ingredients with nourishing formulas to rejuvenate your complexion. Dive into the Deep Blue Fountain of Youth with tips and recommendations from the experts at Deep Blue Med Spa:
About ProBLUEMD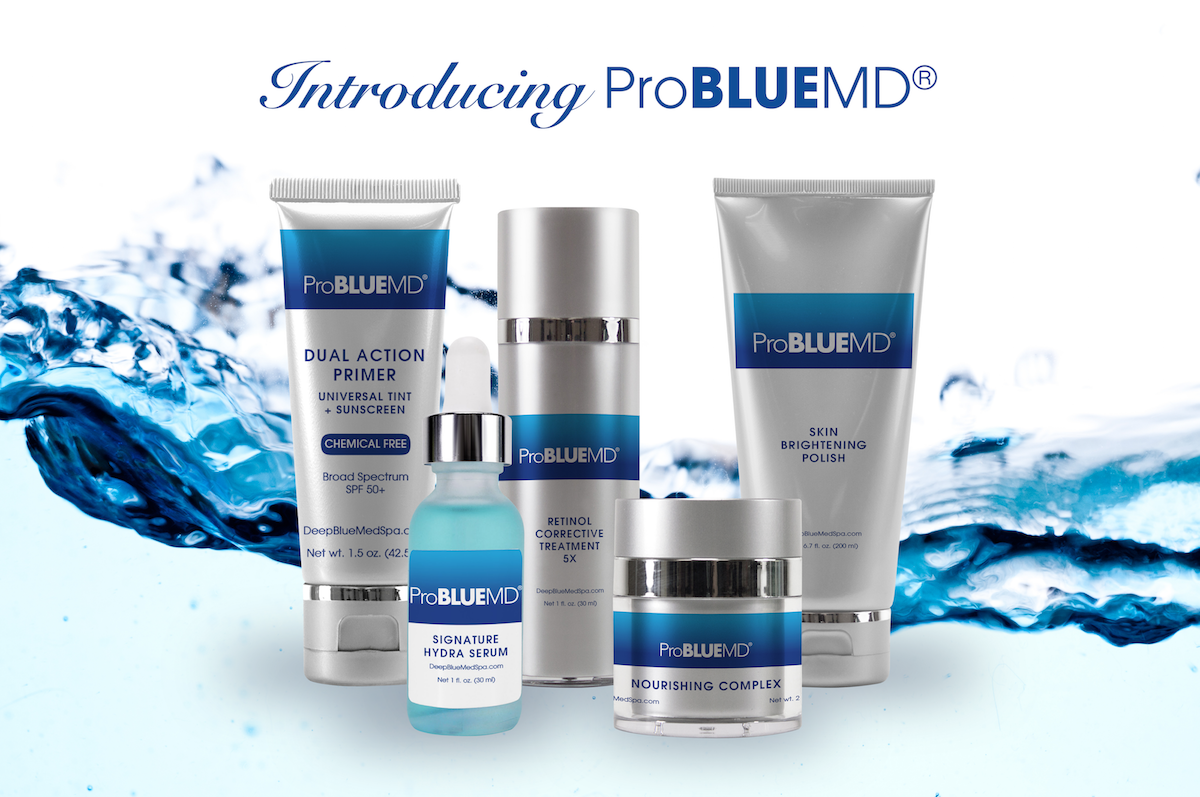 ProBLUEMD is a innovative new skincare system that was designed to go beyond normal skincare products to deliver stunning results. Our formulas feature pharmaceutical grade ingredients that are carefully calibrated to treat a wide array of skin types and skin concerns. ProBlueMD is a comprehensive skincare treatment system to restore and rejuvenate your naturally beautiful skin.